Yesterday afternoon I was tinkering with the custom states you can define within Office Communicator 2007 and found actually creating the custom states obnoxiously difficult for an end-user. In an effort to remedy that problem I whipped up an application I'm going to call the Communicator 2007 Custom Presence Tool. Let's call it a beta version for now, just to be trendy.
It provides a GUI interface for users to select their custom availability and a status note to go along with the availability. The tool creates the XML file and updates the CustomStates registry value with the location of the XML file.
A few screenshots to demonstrate the functionality: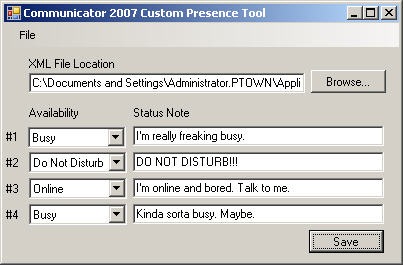 Here's a basic rundown of what happens:
Upon startup, the tool tries to read the value of HKCU\SOFTWARE\Policies\Communicator\CustomStates.
If the value exists, it loads the XML file location that is specified.
If the value doesn't exist, the user is prompted for a location to save the XML file. It defaults to %AppData%\Microsoft\Communicator\CustomPresence.xml. I chose that location to accommodate roaming profiles.
At this point the user is presented with a blank sheet (or filled if the XML file existed) of their custom availabilities and status notes that they can fill out.
Once Save is pressed the registry value is updated to reflect the location of the XML file.
It seems to work fine for my purposes in a lab environment, but by no means am I a programmer so I would thoroughly test this tool out on some non-production machines before you try implementing this. I'd also love any kind of feedback, so please let me know what you think. I'm positive there are some issues I haven't found yet so feel free to point them out.
Download Communicator 2007 Custom Presence Tool
Requirements: Microsoft .NET Framework 2.0