So now that the JesusPhone iPhone has been deemed Enterprise worthy around the world with its Exchange support businesses are jumping at the opportunity to move employees on to the platform. Or should I flip that around to say employees are breathing down the neck of IT departments so they can finally get an iPhone? Either way works.
Apple has actually provided a configuration utility named, oddly enough, the iPhone Configuration (Web – if you use the web version) Utility that you can download for free. There is a native application for OS X and a web-based one for Windows or OS X systems. As far as I can tell, they all have the same feature set. Here's a quick little tour…
The main screen resembles the iTunes interface for syncing iPods and iPhones. You can also sign your profiles with a certificate, otherwise they'll appear to be from an untrusted source to the end-user.
The passcode page lets you configure some lockout and pin policies.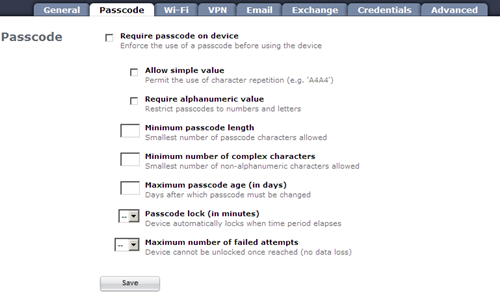 Wi-Fi lets you configure wireless network profiles. It's actually extremely flexible in how much you can configure.
The VPN page lets you configure either PPTP, L2TP or an IPSec Cisco VPN connection.
The Email tab will allow configuration of an IMAP or POP account.
The Exchange tab lets you configure a few settings to bypass any Autodiscover lookup.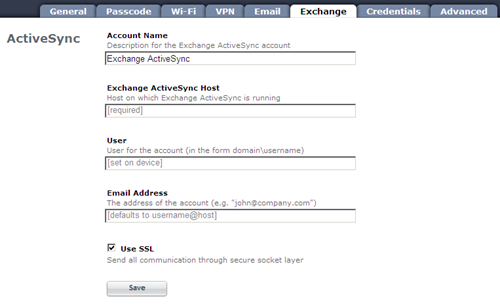 The credentials tab lets you import certificates on to the iPhone. You can add a self-signed certificate here (hello SBS users!) to import on the device. You could alternatively point the user at a web address with the certificate file and mobile Safari would prompt them to install the certificate.
Lastly, you can set up the APN address, username and password if you're really ambitious. I'd suggest leaving this setting alone.