(Yes, it has been awhile!)
When Office 365 Groups first launched last year it was a rather underwhelming first stab at combining a lot of functionality which was arguably already in the Microsoft productivity stack, and in pretty much every case, way more refined than Groups.
We've seen incremental changes to the Groups feature over the past few months and the messaging seems to point that all roads from Exchange, SharePoint, and Lync/Skype for Business eventually lead to Groups. There is still a long list of control knobs and discovery refinements needed before this is something an enterprise can fully adopt, but there are some use cases which make Groups appealing today.
One of the main motivators for using a social tool like Yammer instead of a traditional distribution list is that it captured the historical content. So the person who starts the day after someone posts a critical message to the entire team actually has access to the previous conversations and content. Groups solves that problem quite well, even if it's difficult for an administrator to manage that content. But let's face it – Yammer's admin features are sorely lacking as well, so if you're willing to give up tagging and notifications then Groups is a viable alternative.
I wanted to share a few quirks I've noticed if you're headed down this path:
Logo and Image Sizing
The photo you set for the Group logo should be 240×240 pixels. I can't find this documented anywhere, but that seems to be the size of the example or stock image you'll see when the group is created. But, OWA and OneDrive for Business show different quality levels for reasons I can't explain. The first image here is what I see in OWA and the second is the logo in OneDrive for Business when I access the files section, which looks obviously blurry.
Group Permissions
If you try to manage the Group within the Azure AD Access Panel you may find that you're then unable to manage some options back in the OWA interface. For example, I created this Group within OWA as a public group anyone could join. I modified the permissions in Azure AD to require approval. Now – even as the Group owner – I'm unable to revert that setting in OWA and see the Privacy section is grayed out.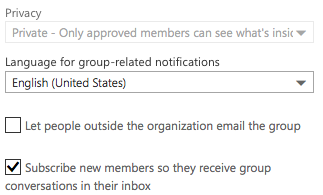 Default SMTP Address
Groups default to using your tenant ID as the primary SMTP address. Really smart folks on my team like Keif Machado and Joe Stocker have already beaten this one to death, but let's just say it's inconsistent with what anyone would expect when creating a new object. Remember to flip it to an appropriate domain after creation.
Likes
It's getting social, and we're starting to see even more overlap with Yammer functionality. I can "Like" a message anyone posts and they will receive a notification that I did so. But, that pop-up notification is only visible in OWA, so the Outlook stalwarts will surely suffer from a lack of ego-boosting alerts.
Lync/Skype Presence
There seems to be some semblance of the presence concept, and perhaps we're seeing the starting to see these groups becoming a persistent chat room in Skype for Business. When you view the contact card for a group you'll see the presence indicator on the left side just like any other contact. I've seen it change from Available to Away with not much background on why, but it's obvious that some aspect of the group has presence abilities.
Hope that helps!